All natural - texas made - balanced flavor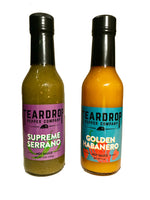 How does it taste?
GOLDEN HABANERO - With a great balance of flavor and heat, our Golden Habanero hot sauce makes your favorite foods taste even better! The harmony of pineapple and mango is quickly followed by a habanero kick, providing a delicious taste that will leave you wanting more. 
SUPREME SERRANO - This garlic-fueled green sauce has a smooth, rich flavor without overpowering heat. The serrano peppers give it just the right amount of bite to amp up your meal, and the combo of onion and tomatillo will keep you craving that great taste!
BUY NOW
About Us
Since getting married in 2018, one of our favorite things to do together is create unique flavors of hot sauce that compliment a wide variety of our favorite meals. Living in Austin, Texas provides us with plenty of resources for new ideas, and in 2019 we decided to open our own hot sauce business!
Another thing we love doing is loading up our teardrop camper and exploring new places. Our camping trips always involve cooking new foods, and have led to some of our best ideas for unique hot sauce. Therefore, we decided to honor these inspirations by naming our business Teardrop Pepper Company.
We use all-natural ingredients to provide flavorful, top-notch hot sauce to compliment your favorite foods. Put it on everything, we'll make more!
- Chris and Sarah Lattier
Contact Us
For wholesale inquiries and large orders, please email teardroppepperco@gmail.com